Long Term Care Insurance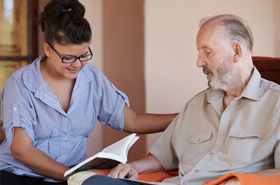 NOT only for the elderly
So many individuals consider long-term care as something reserved for those that are well advanced in age.  Long-Term Care is often necessary for those suffering with a chronic illness.  It is often needed to help those who have had a stroke or other debilitating occurrence.
Long-Term Care can include anything and everything from assistance with day-to-day activities to skilled nursing care, physical therapy and other medical care.  It can be administered at an individual's home, as well as in a nursing home, an assisted living community or some other long-term care facility.
Long Term Care Insurance is more necessary today than ever before.  We're living longer than ever before due to advances in healthcare, a better understanding of the importance of living a healthy lifestyle and other factors that have helped to keep us healthier longer.  Of course, other factors come into play when considering your need for Long Term Care Insurance, including:
Changes in marital status / family demographics
Family history of dementia / Alzheimer's or other memory loss conditions
Financial ability to handle the unexpected
After working hard all your life, the last thing you want is to force family members to shop for the cheapest care they can find for you.  You deserve better, and Long Term Care Insurance can help make sure you get it!
CONTACT Unified Capital Solutions for more information today