Disability Insurance
Group Voluntary Disability Insurance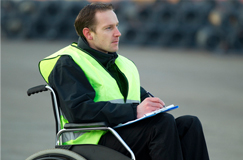 Ask the average worker what their most valuable asset might be and the most likely response will be their home, their 401K or other investment(s).  The truth is that without the ability to earn an income, the home, the 401K and the other investments wouldn't exist.  That's why Disability Insurance should be a part of a strong benefits package.
House payments, utility bills, food, clothing and daily household expenses don't wait should an accident or illness put you on the sidelines.  It's difficult, if not impossible to meet these obligations without a steady paycheck.  When a disability occurs, it usually brings a whole new group of financial responsibilities in the form of out-of-pocket medical costs.  This is why so many employees and employers are implementing a disability insurance plan as part of the employee's voluntary benefit package.
The cost of employee absence is well documented.  More and more employers are discovering the cost-effectiveness of implementing a strategy to manage employee absence.  Part of designing an effective strategy is making sure there's some form of income protection available to employees.  Having disability coverage in place is a positive step in reducing employee stress and maintaining a positive environment that is conducive to retaining personnel during recovery.  Compared to the cost of recruiting, vetting, hiring and training new employees, retaining current employees throughout their disability period is far less expensive.
Contact Unified Capital Solutions today and ask how we can provide effective, affordable disability insurance as part of your voluntary benefit package offering.